The 'Great War – Between the Lines' project was funded by the European Union Interreg 4a '2 Seas' funding programme until the end of September 2014 and was being led in Cambridgeshire by Cambridgeshire County Council. However, this website will continue beyond September 2014 as part of the Cambridgeshire Community Archives Network (CCAN) project at www.ccan.co.uk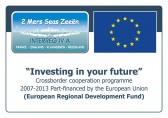 The 'Great War – Between the Lines' project was a co-operation between 16 partners in the UK, Northern France and Belgium. It aimed to facilitate cross-border activities which were designed to encourage the commemoration of the Great War centenary between 2014 and 2018, ensuring that the sacrifices made during the Great War and the legacy of the war on contemporary society continues to be understood and remembered.
In 2016 the Heritage Lottery Fund funded an additional project "Cambridgeshire Pals" to raise the profile of the local volunteer regiment in WW1, the 11th Battalion Suffolk Regiment. A digital memorial will be made within this CCAN group to remember the men.